"STRATEGIC LITIGATION: EXPERIENCE OF LAWYERS FROM U.S., EUROPE, RUSSIA"- Accepting applications from candidates for participation in the IV URAL (SUMMER) SCHOOL OF HUMAN RIGHTS (Ekaterinburg, September 16-20, 2014)
To the Twentieth Anniversary of NGO Sutyajnik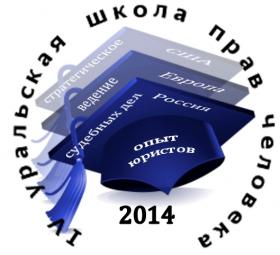 "STRATEGIC LITIGATION: EXPERIENCE OF LAWYERS FROM U.S., EUROPE, RUSSIA"- Accepting applications from candidates for participation in the IV URAL (SUMMER) SCHOOL OF HUMAN RIGHTS (Ekaterinburg, September 16-20, 2014)
Deadline for applications 12 AM August 3, 2014 (Ekaterinburg time).
If you or your organization conducts litigation, in order to not only help applicants in a case, but also an unlimited range of citizens, society as a whole, in order to change legislation in accordance with the Russian Constitution and international human rights treaties, ̶ we welcome your application for a weeklong training on building and managing strategic litigation campaigns.
The interactive training will be held for 25 lawyers in large and small groups on the following topics:
- Introduction to strategic litigation as a means to achieve public interest objectives and legal reform (how to initiate lawsuits, build a defense);
- Elements and methods common to strategic litigation proceedings, and how it differentiates from ordinary judicial disputes;
- Planning and development of effective strategies for conducting cases; pros and cons of strategic litigation proceedings;
- Strategic approaches to the construction and advancement of lawsuits, objections, arguments and petitions;
- Integration and coordination of strategic litigation with other forms of advocacy and advancement of public interest law;
- Master-classes where organizers, teachers and participants will demonstrate their work experience in specific cases, as well as develop practical strategic defense skills by working on hypothetical cases in small groups;
- Senior attorney from the European Court of Human Rights will present European standards for a fair trial; share a vision from Strasbourg of how to successfully bring a case to ECHR; demonstrate how to attract attention to the structural problem of ECHR (using "pilot" ECHR rulings); and also hold informal meetings in small groups for those wishing to learn more about how to deal with the ECHR.
- Throughout the school round tables will be held with representatives from government, law, and public organizations.
A detailed training program: http://sutyajnik.ru/rus/news/2014/agenda.pdf
The School's trainers are prominent lawyers with experience conducting strategic litigation in total of more than 100 years.
Organizers are calling for applications for participation in the School from:
- Staff attorneys of non-governmental organizations and ombudsman office, professors of law clinics;
- Lawyers with considerable experience in litigation in order to achieve changes in law and practice;
- Teaching experience (university, NGO seminars) is welcomed and will be an advantage in the competitive selection;
- English proficiency is welcomed and will be an advantage in the competitive selection.
Participants will be awarded certificates of participation, while the best participants will receive recommendations for admission to Masters of Human Rights at partner universities. The top five participants of the Summer School and subsequent Winter School in 2015 will have the opportunity to participate in a week-long trip to New York City, Philadelphia, and Washington D.C. to become familiar with the activities of law firms and public interest organizations in the United States, as well as to meet leaders in the field of strategic litigation who have achieved such epochal U.S. Supreme Court decisions as Brown v. Board of Education (the decision which declared state laws establishing separate public schools for black and white students to be unconstitutional), Gideon v. Wainwright (the right to counsel in criminal cases for defendants who are unable to afford to pay their own attorneys), New York Times co. v. Sullivan (prohibition of public servants to award monetary compensation for damage from slander in the media related to their official work), etc.
After completion of the School, the NGO "Sutyajnik" will be available to advise and accompany participants' strategic litigation campaigns.
Conditions for participation:
For representatives of NGOs, professors, and those who passed the competitive selection, meals and accommodation will be provided by the organizers. Travel to Yekaterinburg is not covered. For participants living in Yekaterinburg, a place in the hotel is not guaranteed. A place for participants is only guaranteed upon presentation of a copy of the ticket to Yekaterinburg. Compensation for transportation expenses will be considered on an individual basis but not guaranteed.
For commercial lawyers, participation is guaranteed upon passing the competitive selection stage and independent payment for accommodation to Yekaterinburg. A place is guaranteed only after presenting a copy of hotel reservation tickets to Yekaterinburg.
Deadline for applications 12 AM August 3, 2014 (Ekaterinburg time). Applications should be filed in a Word format and e-mailed to urals.human.rights.school@gmail.com. Competition for participation constitutes 3 or more people per place – we ask you to complete the application carefully.
Questions about the School and/or completing the application can be posed in the comments of the page at http://sutyajnik.ru/news/2014/06/2333.html.
At the end of review selected participants will be sent a personal invitation.
To become acquainted with the previous Ural School of Human Rights, visit http://goo.gl/odtGcF (2011, together with the Danish Institute for Human Rights), here http://goo.gl/fsDQlL (2012, in conjunction with the American Bar Association), and here http://goo.gl/40RzV3 (February 2014, with the support of the Dutch Human Rights Fund).
Organizers of the School are the Sverdlovsk regional public interest organization "Sutyajnik", the Academy of Human Rights, Female Lawyer, and the International Senior Lawyers Project;
with support from the Dutch Human Rights Fund, the Council of Europe and the European Court of Human Rights, law schools and other organizations – all under the auspices of the Ombudsman in the Sverdlovsk region.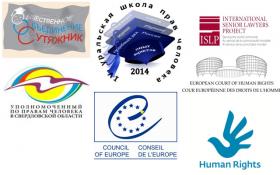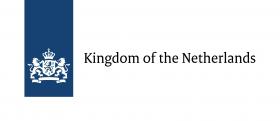 04.07.2014