Human Rights Groups Urge the UN to Condemn Russia's "Presumed Consent" Organ Donation Scheme
16 October 2017, Geneva, Switzerland – SROO Sutyajnik and the International Human Rights Clinic at Loyola Law School, Los Angeles have submitted a joint report to the UN Human Rights Council, detailing the human rights violations posed by Russia's organ donation scheme. This scheme automatically presumes that all citizens have given consent for their organs to be removed upon death, unless an individual or his/her family members have opted out of the presumption.
As public surveys have shown, Russia has failed to adequately inform its citizens of the presumed consent scheme and the fact that they must opt out to avoid organ removal. Further, as the joint report emphasizes, Russia has failed to provide a clear and easy procedural mechanism for opting out, as required by international standards.
Moreover, the problems with the Russian scheme are particularly acute in situations where an individual is at the hospital with fatal injuries and unable to communicate. At such critical times, hospitals do not generally inform the individual's relatives of planned organ removals nor seek their consent. Family members are forced to essentially guess as to the individual's condition and the hospital's organ removal plans and then proactively demand to opt out of the presumption of consent.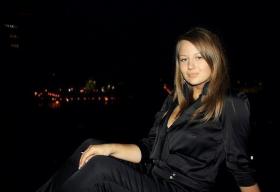 (Alina Sablina) Several cases pending before the European Court of Human Rights demonstrate the chilling consequences of this scenario. In one such case, Sablina, et al. v. Russian Federation, nineteen-year-old Alina Sablina was struck by a car as she was walking in a zebra crossing and was rushed to the hospital. Alina's parents visited her at the hospital around-the-clock for several days. Alina unfortunately died and, four hours later, six of her organs were removed for transplantation. Alina had never expressed her consent to donate her organs.
The hospital did not inform her family members of her death and did not seek their consent for the organ removal, despite their physical presence at the hospital. In fact, her family found out about Alina's death from a burial agent who approached them. They only found out about the organ removal while reviewing a forensic report one month later. Russia maintains that the organ removal was legal, because Alina's family members did not let the hospital know that they objected to the procedure.
As a result of this scheme, hospitals are able to perform clandestine organ removals against the wishes of the deceased and their families. The scheme violates multiple human rights instruments to which Russia is party. Also, paradoxically, there does not seem to be evidence that the scheme has actually increased the incidence of organ transplantation; rather, Russia has had three to four times fewer incidences of organ transplantation than countries with stricter laws.
Although several other countries aside from Russia have presumed consent laws for organ donation, none of the other presumed consent systems allows a situation in which consent is not actively sought. Only Russia has a system where no consent is sought during the lifetime of individuals and no consent is sought from relatives at the time of death. Therefore, as Anton Burkov of Sutyajnik and attorney for both families before the European Court of Human Rights explains, "Russia's organ donation system should actually be considered an 'imputed consent' system instead of a 'presumed consent' one."
The UN Human Rights Council is scheduled to address the concerns raised by the joint report in connection with its Universal Periodic Review process in May 2018.
Founded in Yekaterinburg, Russia in 1994, Sutyajnik is a human rights resource center that helps citizens and organizations realize rights guaranteed in the Russian Constitution and international treaties by litigating public interest cases, educating in human rights, and informing the public about the mechanisms for human rights protection. One of Sutyajnik's principal goals is to defend human rights by working to bring domestic legislation and practice into conformity with international and constitutional standards.
The International Human Rights Clinic at Loyola Law School, Los Angeles is committed to achieving the full exercise of human rights by all persons. The Clinic conducts litigation and other types of advocacy on a broad range of human rights issues at the global and regional levels.
NGO Joint Parallel Report on the Russian Federation. Submission to the United Nations Universal Periodic Review for consideration in the formulation of the List of Issues during the 30th Session of the UPR Working Group Human Rights Council May 2018
13.10.2017